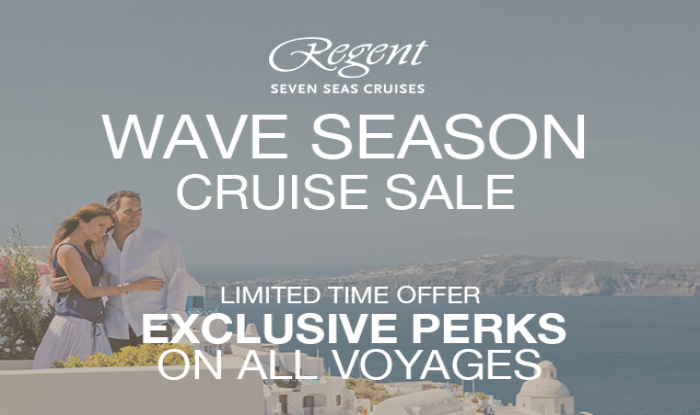 Regent Seven Seas Cruises Wave Season Sale
---
Wave Season is the best time to book your Regent Seven Seas Cruises voyage!
Luxury Cruise Connections is the only cruise agency adding thousands of dollars in extra value add-ons.
Each Regent Seven Seas Cruises ship features all-suite accommodations that range from 300 to 4,443 square feet, boast elegant décor with custom-crafted furnishings and private teak balconies complementing all suites.
When you book a Regent Seven Seas Cruises voyage, you'll have the opportunity to indulge in the exquisite cuisine of the finest dining experience at sea, and explore the world's greatest destinations without limits. Guests really can have it all aboard Regent Seven Seas Cruises.
______________________________________________________________________
FEATURED VOYAGES VIP PERKS & EXCLUSIVE AGENCY AMENITIES
______________________________________________________________________
SHIP DATE # NIGHTS ITINERARY
Seven Seas Explorer 4/4/18 8 Barcelona/Monte Carlo
Seven Seas Explorer 4/12/18 11 Monte Carlo/ Barcelona
Seven Seas Explorer 4/23/18 8 Barcelona/Rome
Seven Seas Explorer 5/8/18 7 Monte Carlo/Barcelona
Seven Seas Explorer 8/4/18 10 Stockholm/Copenhagen
Seven Seas Explorer 8/14/18 10 Copenhagen/Stockholm
Seven Seas Explorer 8/24/18 10 Stockholm/Copenhagen
______________________________________________________________________
Reserve your next Regent Seven Seas Cruise with Luxury Cruise Connections and receive:
Wave Season Perks
Virtuoso Agency Exclusives
Exclusive World Cruise & Long Voyages VIP offers and bonus perks
2-for-1All-inclusive fares
Free Roundtrip business class air*
on intercontinental flights
Free Roundtrip air*
on domestic flights
Free Unlimited shore excursions
Free 1-night pre-cruise hotel package*
Free Unlimited beverages
including fine wines and premium spirits
Free Open bars and lounges
plus in-suite mini-bar replenished daily
Free Pre-paid gratuities
Free Specialty restaurants
Free Transfers between airport and ship*
IF YOU ARE ALREADY BOOKED DIRECTLY WITH A CRUISE LINE IT IS NOT TOO LATE TO TAKE ADVANTAGE OF THESE OFFERS.
*All amenities shown vary and are available for specific sailings only.