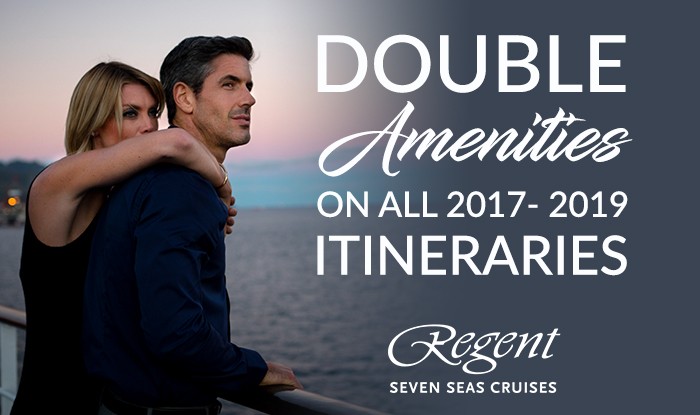 Exclusive Double Amenities on your next Regent Cruise!
---
Anticipate an unforgettable journey to the world's greatest destinations where everything is included, without exception and without compromise. Luxury Cruise Connections is adding THOUSANDS OF FREE CRUISE AMENITIES on all 2017, 2018 & 2019 voyages.
Embark on a Caribbean cruise with Regent Seven Seas. Enjoy seeing palm trees sway contentedly in the tropical breeze. Sparkling, tempting, sapphire-blue waters promise adventures above and below the waves. Colonial ports painted in pastels beckon with a kaleidoscope of delightful market goods, old forts, and beaches.
Or experience Spain's Costa del Sol to the earthy richness of Tuscany, participate in life at its fullest among the world's greatest landscapes. Your senses are heightened by the panorama of fruits and spices, freshly baked breads complimented by delectable wines.
Reserve your next Regent Seven Seas Cruise with Luxury Cruise Connections and receive:
EXTREME WAVE SEASON SAVINGS AND BONUS CRUISE PERKS call for more information 866-997-0377
IF YOU ARE ALREADY BOOKED DIRECTLY WITH A CRUISE LINE IT IS NOT TOO LATE TO TAKE ADVANTAGE OF THESE OFFERS. CALL FOR DETAILS 1-866-997-0377
Call Now! 1-866-997-0377 and reserve your Next Cruise Voyage today!
*All amenities shown vary and are available for specific sailings only. Call Luxury Cruise Connections at 1-866-997-0377 for more information.
---
Don't Forget to Take the Luxury Cruise Connections Challenge
Call Us With Your Best Deal - We WILL Beat It!