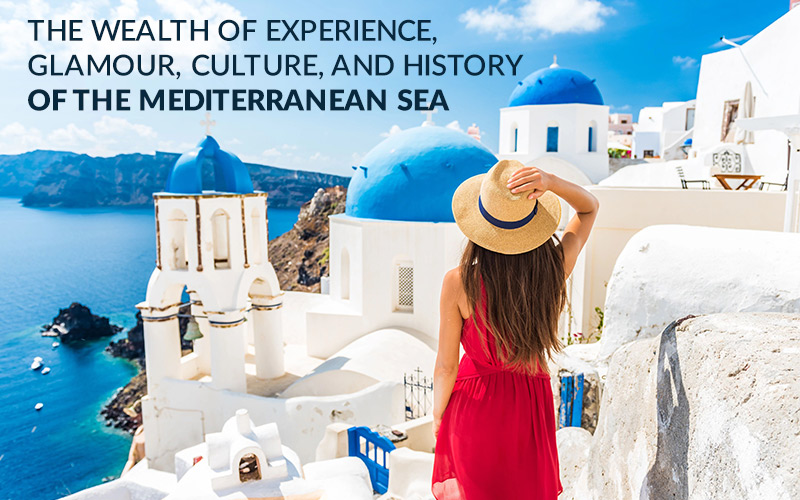 The wealth of experience, glamour, culture, and history of the Mediterranean Sea
The Mediterranean Sea may be the most important body of water in Europe. The cradle of modern civilization, these turquoise shores sprouted the Empires of antiquity that shaped the globe. Walk in the footsteps of philosophers, artists, messiahs, supplicants, nomads, emperors, and pharaohs as you tour the religious, historical, and cultural landmarks from Spain to Egypt.
Indulge in the food and wine of hundreds of diverse cultures, regions, and traditions. Food and Wine can steal the show as your tastebuds struggle to keep up with delicacies ranging from mouthwatering Catalonian tapas to savory Moroccan Tagine, and all of the finest vineyards from France, Italy, and everywhere in between will have guests visiting these fantastic destinations again and again.
Art and art history walk hand in hand in every port you will visit on these diverse itineraries. Architecture and artworks from Egyptian Hieroglyphics to illuminated religious manuscripts, to flying buttresses of gothic cathedrals to massive byzantine basilicas to frescos of renaissance masters, guests can look forward to endless opportunities to tour iconic museums and unforgettable landmarks.
There is no limit to the types of experiences offered in the Mediterranean region. It is no wonder that it has become one of the most revisited regions in cruising. First-time cruisers and experienced sailors alike have no shortage of new activities and adventures awaiting your arrival.
Whether you are visiting for the first time or the one-hundredth time, selecting the itinerary that matches your desired experiences takes knowledge and skill. The assistance of the advisors at Luxury Cruise Connections can be instrumental in selecting the right ports and brands to maximize the quality of your journey and maximize your budget.

Carlos Edery
CEO & Founder