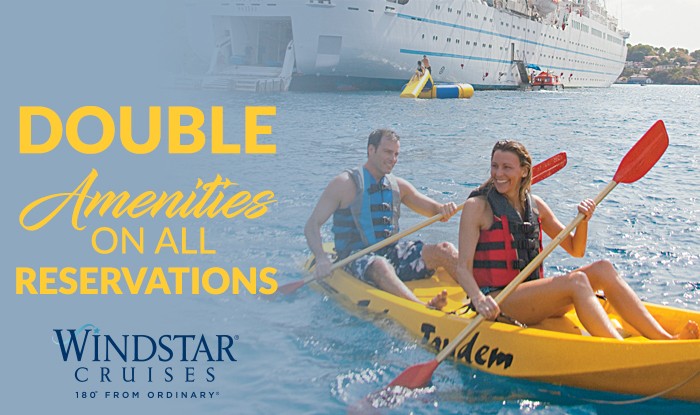 WINDSTAR RICHEST CRUISE SALE! DOUBLE AMENITIES AND PERKS ON EVERY RESERVATION!
---
For the first time ever, get DOUBLE AMENITIES on all Windstar reservations when you book with Luxury Cruise Connections

Sail right into the heart of Old World villages, hidden coves, and harbors off the beaten path – places only Windstar's small cruise ships are welcomed. Every itinerary is expertly crafted and artfully planned, visiting both boutique ports and bucket-list capitals. Share intimate moments away from the crowds. Immerse yourself in local culture and cuisine, and get behind-the-scenes experiences.
Reserve a Windstar Cruise with Luxury Cruise Connections receive:
DOUBLE AMENITIES OR PERKS ON ALL 2017 2018 ITINERARIES call for more information 866-997-0377
Up to 2 FREE hotel nights
FREE up to $1,000 on board credit
Up to 80% off cruise fares
Cruise fares from $1,299 per person
FREE upto $1000 bonus shipboard credit
reduced fares and bonus savings
Complimentary private Virtuoso event
Exclusive group perks!
THOUSANDS OF DOLLARS IN BOOK NOW AMENITIES Call now and see what you qualify for 866-997-0377
IF YOU ARE ALREADY BOOKED DIRECTLY WITH A CRUISE LINE IT IS NOT TOO LATE TO TAKE ADVANTAGE OF THESE OFFERS. CALL FOR DETAILS 1-866-997-0377
Call Now! 1-866-997-0377 and reserve your Next Cruise Voyage today!
*All amenities shown vary and are available for specific sailings only. Call Luxury Cruise Connections at 1-866-997-0377 for more information.
---
Don't Forget to Take the Luxury Cruise Connections Challenge
Call Us With Your Best Deal - We WILL Beat It!