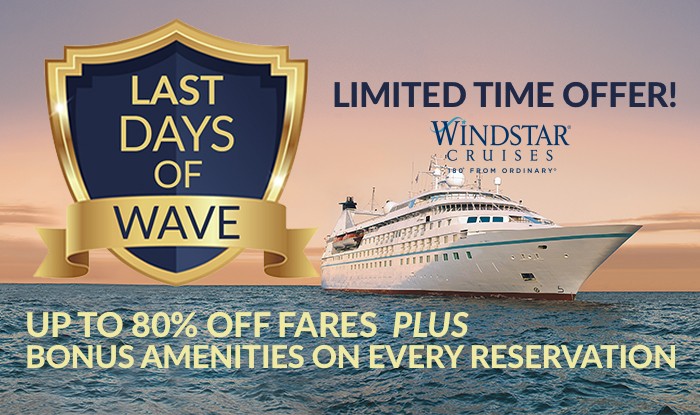 Windstar Cruise Alert! Last Chance to Receive Bonus Perks on all Sailings
---
This Deal is too good to last!
For a limited time only, Luxury Cruise Connections is adding FREE bonus amenities on all Windstar sailings!
Brighten your life with this limited time of incredible savings on the ultimate cruise experiences to breathtaking destinations in Northern Europe, Tahiti, Asia, Alaska, and Canada/New England. Our Flash Sale deals give you the lowest prices on upcoming cruise dates. Share intimate moments away from the crowds. Immerse yourself in local culture and cuisine, and get behind-the-scenes experiences.
Reserve a Windstar Cruise with Luxury Cruise Connections receive:
Up to 2 FREE hotel nights* certain restrictions apply
FREE up to $1,000 on board credit
Up to 80% off cruise fares
Cruise fares from $1,299 per person
FREE upto $1000 bonus shipboard credit
reduced fares and bonus savings
Complimentary private Virtuoso event
Exclusive group perks!
THOUSANDS OF DOLLARS IN BOOK NOW AMENITIES Call now and see what you qualify for 866-997-0377
IF YOU ARE ALREADY BOOKED DIRECTLY WITH A CRUISE LINE IT IS NOT TOO LATE TO TAKE ADVANTAGE OF THESE OFFERS. CALL FOR DETAILS 1-866-997-0377
Call Now! 1-866-997-0377 and reserve your Next Cruise Voyage today!
*All amenities shown vary and are available for specific sailings only. Call Luxury Cruise Connections at 1-866-997-0377 for more information.
---
Don't Forget to Take the Luxury Cruise Connections Challenge
Call Us With Your Best Deal - We WILL Beat It!