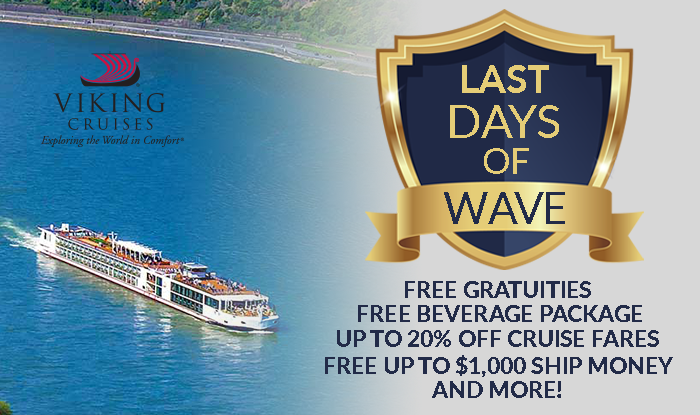 Viking Cruises Last Day of Wave Sale!
---
HURRY! LAST CHANCE TO GET 2017 & 2018 ITINERARIES AT 2016 FARES
Designed for discerning travelers, Viking Cruises offers guests "the thinking person's cruise" as an alternative to mainstream cruises. The Viking difference is providing guests with extraordinarily well-designed cruises that facilitate engagement with the cultures of the world. Ships are small allowing privileged access to smaller ports and getting guests closer to their destination, with more time in port, more overnights and fewer days at sea. Onboard, guests find serene Scandinavian spaces, where every room is beautiful and functional, quiet and filled with light. All-veranda ships mean that guests experience every day with a new, expansive vista. With the most al fresco dining at sea, featuring regional cuisines and always-available American classics, Viking's guests can truly dine in their destination. A focus on cultural enrichment brings immersive experiences onshore and onboard. And only The Viking Way brings guests itineraries that feature Local Life, Working World, and Privileged Access experiences.
Reserve your next Viking Cruise with Luxury Cruise Connections and receive:
FIRST TIME EVER FREE BEVERAGE PACKAGE
FIRST TIME EVER FREE PREMIUM SHORE EXCURSION UPGRADE
ASK ABOUT THE RUN OF THE SHIP SPECIAL *select sailings
Better than 2 for 1 fares
FREE air on select 2017 & 2018 voyages
FREE beverage package
Up to an additional $500 per person off on first-time river cruisers
Up to $2,000 off per couple on air
Special referral amenity for newly referred passenger
up to $500 per person noncash amenity* Call for more information 866-997-0377
IF YOU ARE ALREADY BOOKED DIRECTLY WITH A CRUISE LINE IT IS NOT TOO LATE TO TAKE ADVANTAGE OF THESE OFFERS. CALL FOR DETAILS 1-866-997-0377
Call Now! 1-866-997-0377 and reserve your Next Cruise Voyage today!
*All amenities shown vary and are available for specific sailings only. Call Luxury Cruise Connections at 1-866-997-0377 for more information.
---
Don't Forget to Take the Luxury Cruise Connections Challenge
Call Us With Your Best Deal - We WILL Beat It!