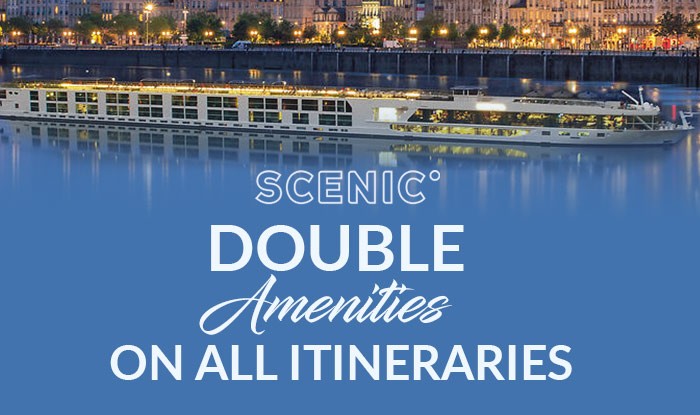 Scenic Cruise Sale - Double Amenities on all Reservations
---
This is Scenic Cruises' Richest Cruise Sale
With meticulously planned itineraries, unforgettable onshore excursions and all drinks and dining included in the price of your cruise, there really is no better way to experience the rivers of Europe and immerse yourself in the history and culture that lines its banks.
There is no shortage of experiences to be had on an all inclusive river cruise in Europe. And as many seasoned river cruisers can attest, once you see the jewels of Europe from a luxury cruise ship floating down one of the continent's many rivers, you'll learn that there is simply no better way to travel.
Reserve your next Scenic River Cruise voyage with Luxury Cruise Connections and receive:
2018 ITINERARIES AT 2017 PRICING - CALL FOR DETAILS 866-997-0377
Up to free Economy air
up to $1200 per person savings
Thousands of Dollars in BOOK NOW amenities on every voyage
and more
IF YOU ARE ALREADY BOOKED DIRECTLY WITH A CRUISE LINE IT IS NOT TOO LATE TO TAKE ADVANTAGE OF THESE OFFERS. CALL FOR DETAILS 1-866-997-0377
Call Now! 1-866-997-0377 and reserve your Next Cruise Voyage today!
*All amenities shown vary and are available for specific sailings only. Call Luxury Cruise Connections at 1-866-997-0377 for more information.
---
Don't Forget to Take the Luxury Cruise Connections Challenge
Call Us With Your Best Deal - We WILL Beat It!