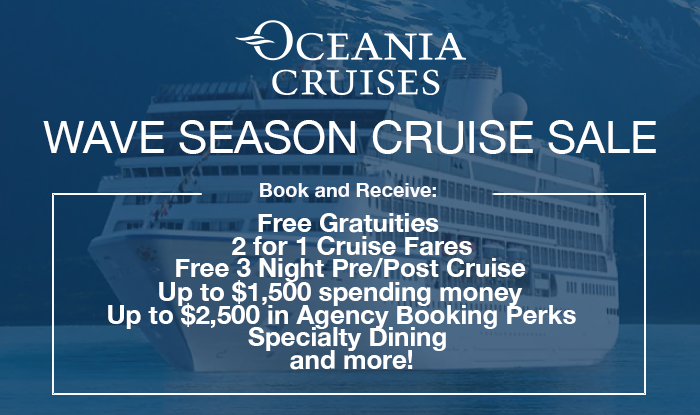 Oceania Cruises Wave Season Sale
---
Exclusive Wave Season Perks on all Oceania bookings
There is no better way to explore the world than aboard the elegant ships of Oceania Cruises. The cruise line boasts unique itineraries that feature fascinating destinations across the globe.
On a voyage with Oceania Cruises, each day offers the rewarding opportunity to experience the history, culture, and cuisine of a wondrous new destination.
Luxury Cruise Connections is adding thousands of dollars in exclusive amenities, and perks on all Oceania Cruises booked before January 31st. Hurry Fares increase Jan 1, 2019
Call for more information 866-997-0377
______________________________________________________________________
RECEIVE UP TO $10, 000 IN SAVINGS ON WORLD CRUISE VOYAGES
______________________________________________________________________
SHIP DATE # NIGHTS ITINERARY
Insignia 1/11/19 174 New York/New York
Insignia 1/11/19 158 New York/London
Insignia 1/11/19 180 New York/Miami
Insignia 1/14/19 177 Miami/Miami
______________________________________________________________________
Perfectly designed for the seasoned traveler who has dreamed of exploring the farthest reaches of our world, these inspiring world journeys invite you to discover a more profound connection with cultures spanning the globe. With the debut of Oceania's 2019 Around the World itinerary, Luxury Cruise Connections is proud to introduce unmatched value on convenient departures from New York, Miami or Los Angeles. From the sacred sites of India to the icons of Sydney, Insignia will bring you unforgettable experiences in a multitude of spectacular destinations during these fantastic travel adventures. Fulfill your ultimate travel dream and circumnavigate the globe on the journey of a lifetime.
Book your Oceania Cruise and get connected!
Huge World Cruise Savings found nowhere else
First Class Roundtrip Airfare
Exclusive Prestige Package
Free Pre-Cruise Luxury Hotel Stay
AMEX Platinum and Centurian Onboard Credits, and Additional Exclusive Amenities Unique to each Cruiseline!
Virtuoso Hosted Voyages, Private Cocktail Receptions, FREE Exclusive Shoreside Events
Free Unlimited Internet, PLUS Free Shore Excursions, Free House Beverage Package, OR Large Onboard Spending Credits!
Transfers between airport and ship
Complimentary Agency VIP Concierge Service, Business Class Air Specials, Exclusive Virtuoso Hotel Amenities, Private Sedan Transfers, Deluxe Excursions, and more!
BONUS: BEST in Industry, Onboard Credits, Post Cruise Cashback Agency perks and more!
CALL TODAY TO SART PLANNING YOUR CRUISE TODAY 1-866-997-0377
IF YOU ARE ALREADY BOOKED DIRECTLY WITH A CRUISE LINE IT IS NOT TOO LATE TO TAKE ADVANTAGE OF THESE OFFERS.
*All amenities shown vary and are available for specific sailings only.