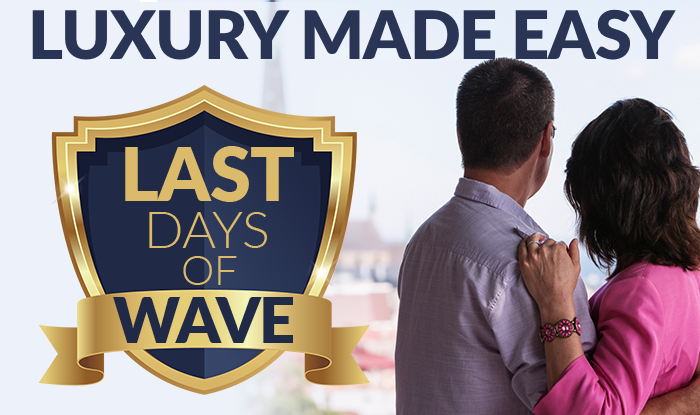 LAST CHANCE! GET WAVE SEASON AMENITIES ON ALL LUXURY CRUISES!
---
Every luxury cruise voyage is a memorable event in its own right. The moment you step aboard a luxury cruise ship, a hostess is at your arm proffering a glass of bubbly while a capable room steward offers to heft your carry-on as he escorts you to what will be your home-away-from-home for the next few days.
Luxury Cruise Connections has partnered with the most reputable and sophisticated cruise lines to entice travelers seeking a superior experience. Enjoy personalized service, upscale staterooms, and immersive itineraries. Some luxury cruise lines offer exotic voyages to faraway destinations around the globe, while others attract travelers with comfortable cabins and stimulating enrichment programs.
We are the only cruise agency offering THOUSANDS of dollars worth of bonus cruise amenities on all cruise 2017 & 2018 voyages. Take advantage of once in a lifetime price advantages on your next cruise vacations.
Book your next cruise vacation with Luxury Cruise Connections and receive:
EXTREME WAVE SEAONS AMENITIES call for more information 866-997-0377
Up to 80% off of Cruise fares* certain restrictions apply
FREE double upgrades to verandah stateroom *select itineraries, select cruise lines
BONUS savings of up $2000 on river cruises
NO FRILLS cruise fares
50 %reduced deposit
FREE up to $1,500 on board spending money
FREE category upgrades* Select Cruise Lines Select itineraries
FREE beverage packages, gratuities, on-board credits, unlimited internet in some cases all 4
FREE specialty dining for two* Select Cruise Lines Select itineraries
FREE spa treatment* Select Cruise Lines Select itineraries
FREE Welcome Receptions* Select Cruise Lines Select itineraries
FREE on-board host* Select Cruise Lines Select itineraries
FREE Shore Excursions* Select Cruise Lines Select itineraries
Business Class air from $199 *select Cruise Lines, select itineraries
Thousands of dollars in LCC perks and amenities-* Call NOW to see what you qualify for 866-997-0377
IF YOU ARE ALREADY BOOKED DIRECTLY WITH A CRUISE LINE IT IS NOT TOO LATE TO TAKE ADVANTAGE OF THESE OFFERS. CALL FOR DETAILS 1-866-997-0377
Call Now! 1-866-997-0377 and reserve your Next Cruise Voyage today!
*All amenities shown vary and are available for specific sailings only. Call Luxury Cruise Connections at 1-866-997-0377 for more information.
---
Don't Forget to Take the Luxury Cruise Connections Challenge
Call Us With Your Best Deal - We WILL Beat It!