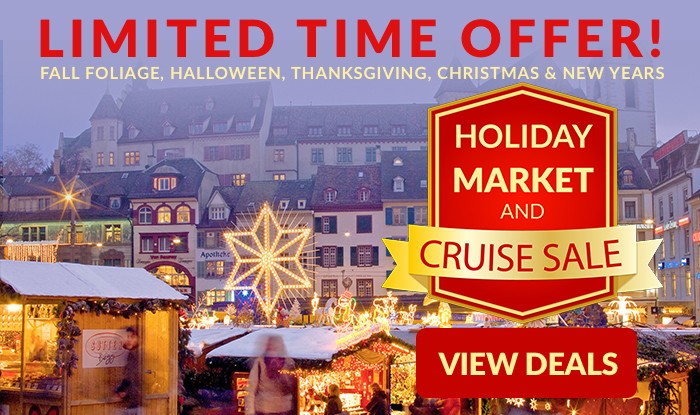 HURRY! Now is the time to reserve your Holiday Season Cruise!
Plan your Fall foliage, Halloween, Thanksgiving, Christmas & New Year Cruises Enjoy Extreme Savings & Amenities on your next cruise voyage.
Immerse yourself in all the splendor of an old-world holiday, cruising majestic waterways aboard a festively decorated ship. Luxury Cruise Connections is offering group rates on all Holiday itineraries. Spend quality time in the Caribbean, lounging around in the sun. Or embark on a river cruise sailing the Rhine, Danube, and Seine rivers, featuring centuries-old Christmas Markets, memorable excursions, decadent confections and numerous other once-a-year delights.
Fall Foliage Cruises
Fall foliage cruises are primarily offered from the middle of September through October and typically range from five to 14 nights. Cruises depart from ports like Baltimore, Boston, Montreal, New York City and Quebec, and itineraries typically include idyllic coastal towns in Maine, New Hampshire, Massachusetts and Rhode Island. You may also visit ports like Halifax, Charlottetown or Saint John in Canada.
Halloween
Set sail for a spooky time on board packed with haunted tricks and fun filled treats for everyone in the family. Magical mischief and spirited decks await you at your every turn. Enjoy costume parties and bewitching entertainment to match the eerie decor.
Thanksgiving
Create a memorable experience on with a bounty of Thanksgiving Day favorites! Enjoy a hearty dinner, football and more in November.
Christmas & New Years
Give the gift of travel with your family on board amazing and innovative ships. Celebrate the triumph of another year gone by with music, dancing, food, and fun as you cruise to popular ports of call in December
Book your next cruise vacation with Luxury Cruise Connections and receive:
Group rates on Holiday sailings call for more information 866-997-0377
up to 80% off cruise fares
FREE up to $550 on board credit
KIDS SAIL FREE * select sailings, select cruise lines
3rd & 4th guest sail free* select sailings, select cruise lines
Buy one guest, get 50% off the second guest
Up to 55% off of Cruise fares* certain restrictions apply
FREE double upgrades to verandah stateroom *select itineraries
BONUS savings of up $2000 on river cruises
NO FRILLS cruise fares
50 %reduced deposit
FREE up to $1,500 on board spending money
FREE category upgrades* Select Cruise Lines Select itineraries
FREE beverage packages, gratuities, on-board credits, unlimited internet in some cases all 4
FREE specialty dining for two* Select Cruise Lines Select itineraries
FREE spa treatment* Select Cruise Lines Select itineraries
FREE Welcome Receptions* Select Cruise Lines Select itineraries
FREE on-board host* Select Cruise Lines Select itineraries
FREE Shore Excursions* Select Cruise Lines Select itineraries
Business Class air from $199 *select Cruise Lines, select itineraries
Hundreds of dollars in LCC perks and amenities-* Call NOW to see what you qualify for 866-997-0377
and more!
IF YOU ARE ALREADY BOOKED DIRECTLY WITH A CRUISE LINE IT IS NOT TOO LATE TO TAKE ADVANTAGE OF THESE OFFERS. CALL FOR DETAILS 1-866-997-0377
REFER A FRIEND AND RECEIVE $50 EXTRA ON BOARD CREDIT!*
certain restrictions apply

Call Now! 1-866-997-0377 and reserve your Next Cruise Voyage today!
*All amenities shown vary and are available for specific sailings only. Call Luxury Cruise Connections at 1-866-997-0377 for more information.
---
Don't Forget to Take the Luxury Cruise Connections Challenge
Call Us With Your Best Deal - We WILL Beat It!