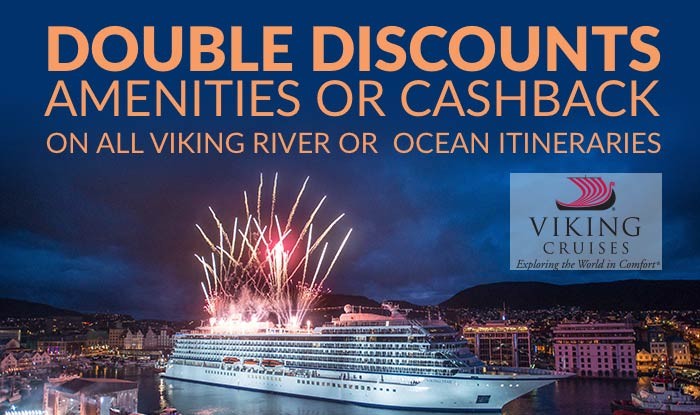 GET DOUBLE DISCOUNTS OR AMENITIES OR CASHBACK ON ALL VIKING RIVER & OCEAN ITINERARIES
---
YOU DON'T WANT TO MISS OUT ON DOUBLE THE DISCOUNTS OR AMENITIES ON CASH BACK ON YOUR NEXT VIKING CRUISE!
Embark on a Viking River or Ocean cruise and enjoy a doorway to cultural insight and personal enrichment. Viking Cruises is an inclusive experience where itineraries are designed to help you explore nuances of your destination: its food, culture, people and customs.
Luxury Cruise Connections is doubling the bonus cruise perks or discounts to every reservation. Guests will also enjoy many complimentary amenities, including beer and wine with lunch and dinner service; premium dining reservations; Wi-Fi; self-service laundry; access to the Thermal Suite in the LivNordic Spa; and 24-hour room service.
Reserve your next Viking Ocean or River Cruise with Luxury Cruise Connections and receive:
IF YOU ARE ALREADY BOOKED DIRECTLY WITH A CRUISE LINE IT IS NOT TOO LATE TO TAKE ADVANTAGE OF THESE OFFERS. CALL FOR DETAILS 1-866-997-0377
Call Now! 1-866-997-0377 and reserve your Next Cruise Voyage today!
*All amenities shown vary and are available for specific sailings only. Call Luxury Cruise Connections at 1-866-997-0377 for more information.
---
Don't Forget to Take the Luxury Cruise Connections Challenge
Call Us With Your Best Deal - We WILL Beat It!