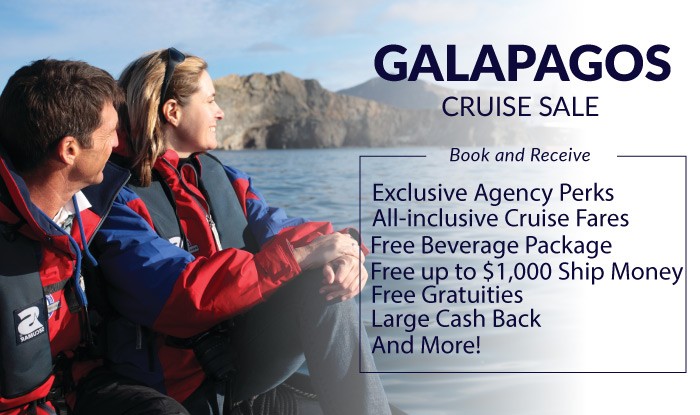 Luxury Cruise Connection has partnered with your favorite cruise line to invite discerning travelers to a "Bucket List" experience of a lifetime.
Our world-travelers share a passion for discovery and we are excited to offer all-inclusive Galapagos cruises to satisfy the travel styles of every modern explorer.
The Galápagos
The Galápagos Islands is a volcanic archipelago in the Pacific Ocean. The Galápagos is considered one of the world's foremost destinations for wildlife-viewing and located in the Pacific Ocean. Located off the coast of Ecuador, it's isolated terrain shelters a diversity of plant and animal species, many found nowhere else.
Ask about a Machu Picchu Extension!
Tour the exceptionally preserved buildings and mysterious passageways underlying the city. Then, enjoy welcoming aperitifs, dinner, and an excellent selection of wines while relaxing on the Orient Express Hiram Bingham back to Cuzco for an evening of local music, dancing, and Pisco Sours. Call for more information 866-997-0377
Featured Ship - Celebrity Flora
Indulge in the largest and most luxurious accommodations in the Galapagos Islands, where every stateroom on board is a suite. Call for exclusive bonus perks 866-997-0377
Book your Galápagos experience with Luxury Cruise Connections and receive:
3 nights hotel in Quito with tours, lunch, and dinner
Pre/Post Hotel
Intra island flights
7 night Galapagos cruise
Gratuities and beverages
Zodiac excursions
10-night Galapagos packages
Hotel stays at JW Marriott in Quito
Free beverages
Free Gratuities
Zodiac excursions
Machu Picchu extension options
Free Concierge services from Luxury Cruise Connections
IF YOU ARE ALREADY BOOKED DIRECTLY WITH A CRUISE LINE IT IS NOT TOO LATE TO TAKE ADVANTAGE OF THESE OFFERS. CALL FOR DETAILS 1-866-997-0377
*All amenities shown vary and are available for specific sailings only.