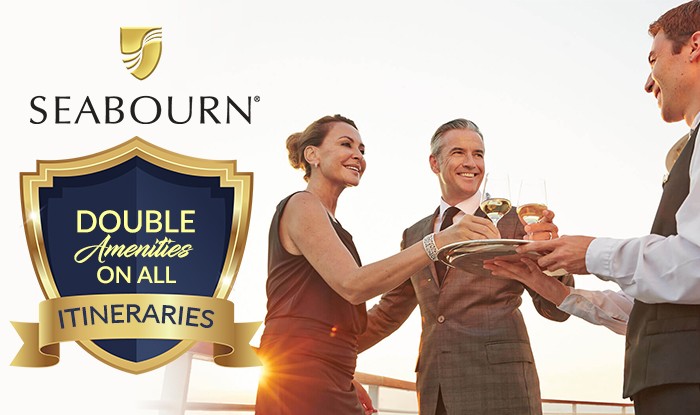 Double DISCOUNTS OR AMENITIES OR CASHBACK ON ALL SEABOURN CRUISES
---
For this month only, we are adding DOUBLE the value and amenities for travelers looking to experience an ultra-luxury vacation on the finest cruise ships at sea. Seabourn ships set to visit hundreds of ports on all seven continents over the year ahead, this is the perfect time for guests to book and take advantage of Luxury Cruise Connections Wave Season savings for the widest selection of ships, suites, and departures.
Reserve your Seabourn Cruise with Luxury Cruise Connections and receive:
EXTREME WAVE SEASON SAVINGS AND BONUS CRUISE PERKS call for more information 866-997-0377
Complimentary Veranda Suite Category Upgrade*
FREE UP TO $2,000USD per Suite Shipboard Credit for Penthouse and Premium Suites
FREE up to $100USD per Suite Shipboard Credit on Alaska Voyages
FREE up to $500USD per person Air Credit
Up to 15% Combination Cruise Savings
50% Reduced Deposits
PLUS HUNDRED OF DOLLARS IN BOOK NOW AMENITIES call now to see what you qualify for 866-997-0377
IF YOU ARE ALREADY BOOKED DIRECTLY WITH A CRUISE LINE IT IS NOT TOO LATE TO TAKE ADVANTAGE OF THESE OFFERS. CALL FOR DETAILS 1-866-997-0377
Call Now! 1-866-997-0377 and reserve your Next Cruise Voyage today!
*All amenities shown vary and are available for specific sailings only. Call Luxury Cruise Connections at 1-866-997-0377 for more information.
---
Don't Forget to Take the Luxury Cruise Connections Challenge
Call Us With Your Best Deal - We WILL Beat It!