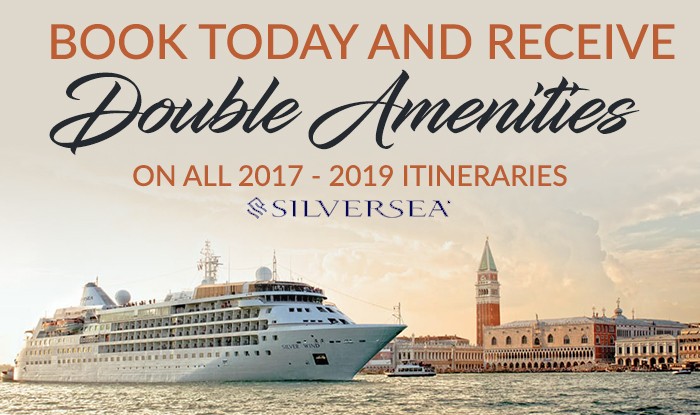 Book Today and Receive Double Amenities on all Silversea Voyages
---
Silversea's small luxury ships are designed for those who delight in the thrill of discovery while indulging mind and body in the most lavish surroundings imaginable. These ultra-luxury ships can sail up narrow waterways into the heart of a city, or tie up right at the pier while others must anchor off shore. And the expedition voyages can transport you to the furthermost boundaries of the planet.
Luxury Cruise Connections is offering amazing and exclusive wave season amenities on all 2017 & 2018. Now our valued clients can indulge in bonus perks you won't find anywhere else.
Reserve a Silversea ALL-INCLUSIVE Luxury Cruise with Luxury Cruise Connections by and receive:
IF YOU ARE ALREADY BOOKED DIRECTLY WITH A CRUISE LINE IT IS NOT TOO LATE TO TAKE ADVANTAGE OF THESE OFFERS. CALL FOR DETAILS 1-866-997-0377
Call Now! 1-866-997-0377 and reserve your Next Cruise Voyage today!
*All amenities shown vary and are available for specific sailings only. Call Luxury Cruise Connections at 1-866-997-0377 for more information.
---
Don't Forget to Take the Luxury Cruise Connections Challenge
Call Us With Your Best Deal - We WILL Beat It!