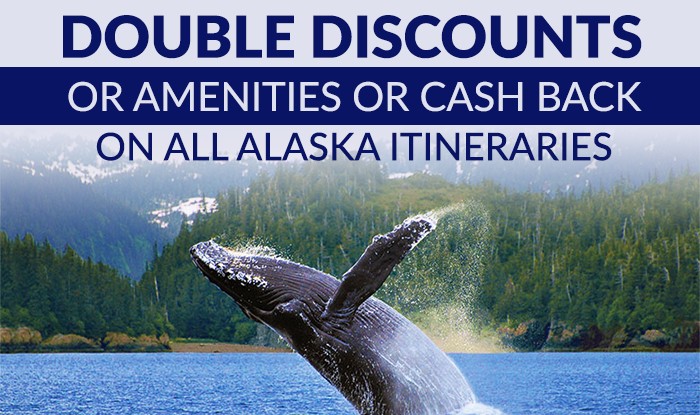 Filled with icy fjords that tower over the Pacific Ocean while snowy peaks stretch towards the horizon, Alaska feels boundless. Yet Alaska cruises often feel incredibly intimate as you watch eagles nesting along coastal forests. Explore all sides of Alaska the way locals see it, up close and personal on an Alaskan cruise or head deeper into the frozen wilderness on an Alaska Cruisetour.
Luxury Cruise Connections has aggressively secured NEVER SEEN BEFORE cruise fares plus DOUBLE DISCOUNTS OR AMENITIES OR CASH BACK on all 2017 & 2018 Alaska cruises. Experience the thrill of a 30 ton whale gliding under your catamaran. Kids' faces will light up like the midnight sun as they enjoy special kids activities and entertainment on board amazing, innovative cruise ships.
Call today to speak with our Alaska Cruise Specialists about how you can explore more of the Last Frontier on our cruise partners Alaska cruises.
This is the best time to book your next cruise vacation!
It's the beginning of Wave Season and Luxury Cruise Connections has the best deals in the industry.
We have partnered with our amazing cruise partners and negotiated group space, pricing advantages, and bonus amenities.
For the last 30 years, our experienced cruise agents at Luxury Cruise Connections have created hundreds of thousands of grand cruise experiences. This was achieved by giving our clients the best overall price, amenities, and cruise experience, through the careful pairing of their desires with the most suited cruise, air, pre & post, as requested.
Reserve your next cruise vacation with Luxury Cruise Connections and receive:
SPECIAL WAVE SEASON CRUISE PERKS AND AMENITIES call for more information 866-997-0377
Up to 50% off the second guest
Up to 55% off of Cruise fares* certain restrictions apply
FREE double upgrades to verandah stateroom *select itineraries, select cruise lines
NO FRILLS cruise fares
50 %reduced deposit
FREE up to $1,500 on board spending money
FREE category upgrades* Select Cruise Lines Select itineraries
FREE beverage packages, gratuities, on-board credits, unlimited internet in some cases all 4
FREE specialty dining for two* Select Cruise Lines Select itineraries
FREE spa treatment* Select Cruise Lines Select itineraries
FREE Welcome Receptions* Select Cruise Lines Select itineraries
FREE on-board host* Select Cruise Lines Select itineraries
FREE Shore Excursions* Select Cruise Lines Select itineraries
Business Class air from $499 *select Cruise Lines, select itineraries
Thousands of dollars in LCC perks and amenities-* Call NOW to see what you qualify for 866-997-0377
IF YOU ARE ALREADY BOOKED DIRECTLY WITH A CRUISE LINE IT IS NOT TOO LATE TO TAKE ADVANTAGE OF THESE OFFERS. CALL FOR DETAILS 1-866-997-0377
Call Now! 1-866-997-0377 and reserve your Next Cruise Voyage today!
*All amenities shown vary and are available for specific sailings only. Call Luxury Cruise Connections at 1-866-997-0377 for more information.
---
Don't Forget to Take the Luxury Cruise Connections Challenge
Call Us With Your Best Deal - We WILL Beat It!